What makes "Parashara's Light" the Ultimate Jyotish Software?
Congratulations, you just found the best Vedic Astrology Program available! Parashara's Light 7.0 is based on the most accurate calculations available. It has been under thorough research and development longer than any other Vedic Astrology software. Almost every well known Vedic Astrolger in the USA has told us that our software is their favorite program.

Parashara's Light is unique in that it is both easy to use and extremely powerful. It is the only package on the market that can fulfill both the novice's need for ease of use, great learning tools, and elegance, and also the professional's need for speed, accuracy, and variety of calculations.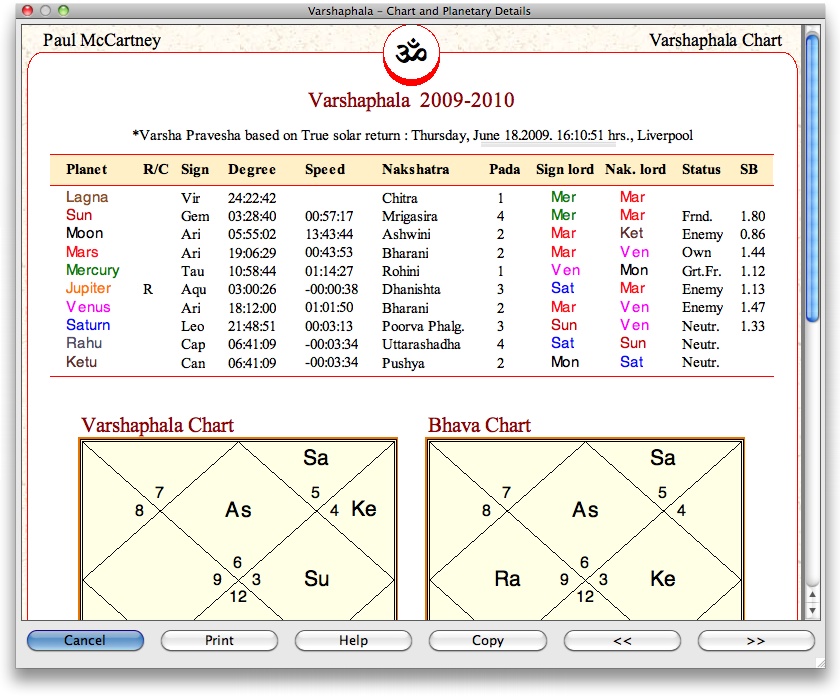 Easy to se: With a highly intuitive graphical user interface, this program is very easy to use. To print charts, all you need to do is enter the birth data and select the printout(s) you want to make! A built in world atlas automatically enters the longitude and latitude for you. The program also contains wonderful learning tools including a chart tutor, Click and Learn feature, 4 classical Vedic Texts, and New Interpretive Reports.. Many people who are very inexperienced with computers are raving about how quickly they learned to use the program. Of course, there is a 100 page manual to explain the details on every possible feature.

Beautiful: Every aspect of the program--forms, screens, interpretations, and printouts--are designed to please your eye. Charts are fully customizable including colors, backgrounds, contents, and formats (Western wheels, North or South Indian style). The printouts are beautiful and can be customized in every detail also.

Powerful: A wealth of calculations are possible. Every astrological calculation in use is supported. The planetary algorithms are extremely fast and accurate (to 1 second of arc precise). Four entire classical texts within the program, with automatic retrieval of yogas and quotes for any chart, yielding a 20 page summary, unique for one's horoscope. The Birth time rectification tools, the powerful Research tools, the Chart Tutor, and the User defined printout tool are just some of the amazing features you won't find anywhere else.
Key Features of Parashara's Light
* Extremely elegant and easy to use graphical interface.
* Interactive Personalized Tutorial!
* Change Time Tool, one of the Key Features to speed up research.
* Supports every astrological calculation and technique in use.
* Fully customizable screens, charts, interpretations, and printounts.
* User interface labels are available in English, Dutch, Spanish, French, and German.
* Easily keep track of who, when, and what you printed reports for.
* Free Technical Support!
* Built-in World Atlas automatically enters longitude, latitude, time zone, and daylight savings.
* Automatic retrieval of yogas and quotes for any chart, yielding an extensive summary report.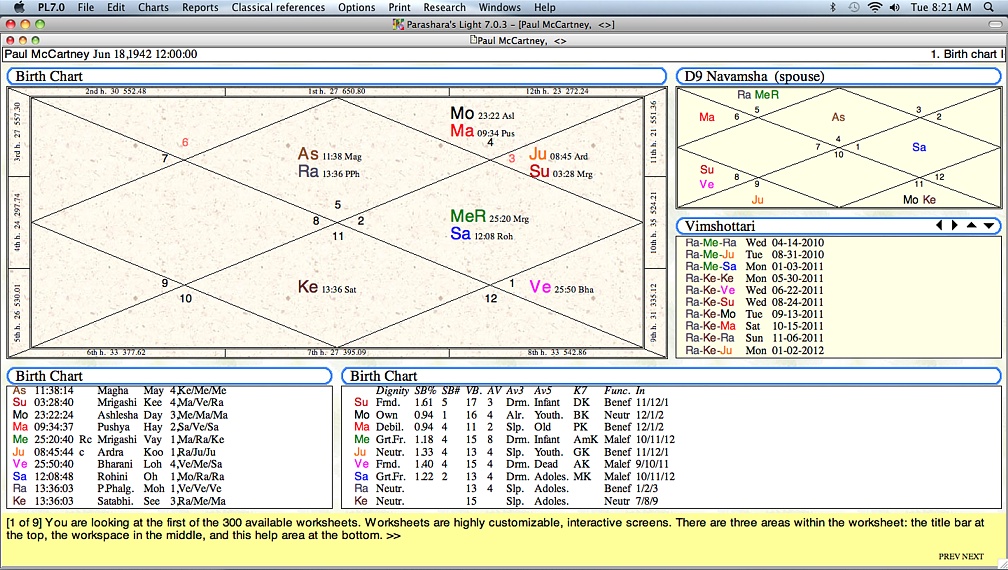 Parashara's Light
The leader in Vedic Astrology Sofware for the Professional Astologer and beginners alike. It features a wealth of calculations, charts, tables, tutorials, and interpretive reports.
Personalized Tutorial!
Over 120 pages of personalized tutorial material can take you from an absolute beginner level through all basic and intermediate levels of Vedic Astrology. Base examples on any chart of your choice. That makes learning interesting and motivating!

Change Location Tool!
The Change Location tool allows one to change the birth location interactively: all charts and tables on the worksheet will instantly be recalculated according to the location on the map you click on.

Worksheet Enhancements!
Now you can place a second person's birth chart, dashas, or any of the divisional or specialty charts, right along side your own chart on the worksheet. It is highly useful for a potential partnership evaluation and predictive consideration of various matters that involve two people/subjects.

Planet Summary Reports!
The planet summary report is based on a highly authentic model of interpreting the effect of the planets in the chart. This page presents all major calculations relevant to the planet, in a way that the interpretation is consistent and clear.

Parashar's Light v6 Mac or Windows versions